"Stretching is as close as I get to laughing."

This week, Link Love takes a humorous turn with the theme 5 Posts That Made You Laugh. As always, you're invited to join in this series – just share your five favorite chuckles on your blog, and then go to the bottom of this post and pop your link into the list!


Image by Monica Solario Snow
Utterly Giddy Gleeful Laughter: The Ron Swanson Quilt, by Happy Zombie
This quilt installed Monica Solario-Snow permanently in my personal pantheon of heroes. Then she actually shipped it to the Parks & Recreation offices, and got a photo of it with Ron Swanson himself, Nick Offerman! This is how we know the world is a fundamentally good place.
Inspirational Giggles: Soul Pancake's Pep Talk From Kid President
This is well worth watching every time you're feeling down, blah, frustrated, depressed, or otherwise non-cheerful. I speak from experience.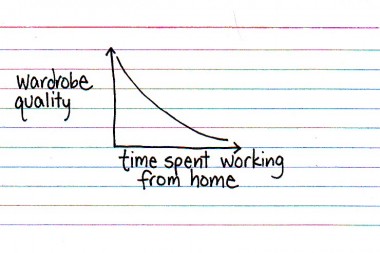 Image by Jessica Hagy
Rueful Laugh of Recognition: "These Are My 'Going Out' Pajamas," from Indexed
Self-employment and fashion are very often mutually exclusive. Never you mind what I'm wearing right now, Missy.
(Seriously, though – Indexed is a really fun blog.)


Image by Allison Hoffman
Fangirl Chuckles: All Things from CRAFTYisCOOL
Allison Hoffman is a genius. Her passion is designing amigurumi dolls of all her favorite actors, musicians, and fictional characters – from Pee-wee Herman to Willie Nelson to the cast of Yo Gabba Gabba. She's done Martha Stewart, Carl Sagan, Conan O'Brien, and many others. Browse her gallery and see if you don't pop a wee chortle.
Image by Matthew Inman
General Rib-Tickling: Cat vs Internet, from The Oatmeal
If you don't read The Oatmeal, today's the day to start. It's not all work-safe or kid-appropriate, so consider yourself warned. "Cat vs Internet" is one of my all-time faves – and a scene that plays out just about every day around here.